Maintaining a Healthy Weight in Middle Age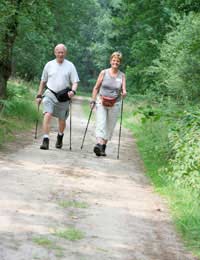 Many people find that they put on a bit of weight as they age, even if they've been able to maintain a healthy weight in years past. The natural slowing of metabolism, combined with fluctuating hormone levels, a tendency to eat on the run, and lack of exercise can show up quickly on the scale. Fortunately, making wise choices can keep weight in check throughout midlife and beyond.
Healthy Eating
Almost every magazine cover boasts some new miracle diet guaranteed to help readers drop weight quickly, but sound, sensible eating is preferable to bouncing from one fad diet to another. Most of these trendy diet plans do work in the short term, but for lasting weight maintenance, an eating plan rich in nutrients is the best way to go.
Filling plates with plenty of vegetables (without added butter or other highly caloric toppings, of course), whole grain foods, and lean proteins can help those in midlife to feel full and satisfied, whilst keeping their waistlines lean and trim.
Planning meals in advance is wise, because when there is nothing healthy readily available, it can be quite tempting to settle for quick and easy foods, which may not be the most nutritious. While fast food establishments are fine for the occasional meal on the go, they are not usually the best choices for regular meals. Having fruits and vegetables washed, pared, and ready to eat can help busy middle aged people to make sound decisions when the hunger pangs strike.
Quick yet nutritious meals can include whole grain pastas with low fat sauces or steamed veggies, hearty breads, legumes, and even cereal with fruit and fat free milk when time is at a premium.
Exercise Matters
Physical activity is beneficial in a number of ways, not the least of which is keeping weight at a healthy level. Maintaining a healthy weight in middle age can help stave off diabetes, heart disease, stroke, and even some forms of cancer, so making time to exercise every day is well worth the time and effort. Regular exercise also helps to sustain aerobic fitness, flexibility, and strength, enabling those in midlife to participate in their favourite activities without discomfort.
Designing a fitness plan for middle age weight control should be done with care, especially if exercise is new to the lifestyle. It's a good idea to start with a visit to the GP to get clearance for preferred activities, as some exercises may be too strenuous for those who have been sedentary. Once given the okay, though, those in midlife should strive to find a balance between cardio workouts, such as walking, biking, or swimming, with resistance training, including weight lifting.
Stretching is also important to stay limber, and all workouts should begin with a gentle warm up and end with a gradual cool down period. Consulting with a personal trainer may be beneficial, at least initially, in order to design individual fitness plans that help participants to identify and achieve their goals.
Healthy and Happy
Robust health can be a big factor in overall happiness, and one of the best ways to improve health is to take steps to achieve and maintain a healthy weight. Many foods can influence mood, with some having an energising effect while others are good for relaxation. A balanced diet provides bodies with all of the nutrients needed for fuel, with an emphasis on high fibre foods that promote a full feeling, lessening the chances that less healthy foods will be consumed to satisfy cravings. Consulting with a dietician is wise for those who wish to lose a considerable amount of weight or have health concerns that may influence their dietary choices.
You might also like...