Understanding the Desire to Recreate Yourself in Midlife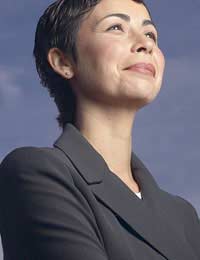 Many people reach midlife and realise that they are not living as fully as they'd like, and some choose to make sweeping changes, recreating themselves in the process.
For the first twenty years or so, people's lives are largely guided by their parents and teachers, putting little of the decision making into their own hands and in early adulthood, life has a way of moving so quickly that people may have the sense that they are simply going along for the ride.
By midlife, though, most people have definite ideas about who they are and what they want out of life, making them candidates for whole life makeovers.
Unfulfilled Dreams and Midlife
As children, most people have some insight into the lives that they hope to lead once they are grown and on their own. Many have ideas about the type of work that they would like to do and whether or not they see themselves married or as parents.
Some people are fortunate enough to have a strong sense of themselves early on, knowing just which decisions will bring them happiness, while others take a while to learn what makes them tick. Most people, though, even those who have distinct ideas about their life choices, find that many of the decisions that they make in adulthood must take into consideration the needs of others.
Putting individual dreams on hold is commonplace, especially for those who choose to be parents or a part of long term committed relationships. In midlife, with some of the responsibilities of parenting behind them, some people choose to revisit the dreams of their youth, hoping to recreate themselves into the people they once envisioned.
Defining the Second Half of Life
Right around the time that they turn 40, many people become somewhat introspective, looking to find meaning in their lives. Oftentimes, the first half of life is dedicated to seeing to the needs of others, while the second half allows for self-growth. No longer defined by what their children need, those in midlife may be able to recreate themselves to reflect their own needs and goals.
Creativity can be nurtured and risks taken. Those who've hoped to travel may do so, and with the responsibilities of child rearing behind them, can visit places that may not been appealing choices for family holidays. Many travel agents, understanding the need for just such excursions, offer travel packages designed specifically for adventure minded people of midlife.
Making the Most of Your Skills in Midlife
By forty, most people know themselves pretty well. Strengths and skills have been clearly defined, and shortcomings are likely to have been long accepted. There is a wonderful sense of freedom that comes once we stop trying to live by other people's standards and simply allow ourselves to be the best we can be, and that transition often happens in middle age.
One of the reasons that some middle aged people feel a sense of dissatisfaction with their lives is that they are not utilising their strengths and skills. By making choices that allow themselves to do the things that they love (and are good at), happiness is sure to multiply.
New Beginnings in Midlife
Midlife can be a sort of starting over point for those who feel that they haven't been living the lives that they were destined to live. Those who have postponed parenthood may choose to begin after 40; those who've raised children may want to take a shot at the career that they once dreamed of before their priorities changed.
Many people find that in midlife, they long to create something that will outlast them – a piece of art or a manuscript. Whether writing a novel or climbing a mountain, the general thought of those in midlife may be, "If not now, when?"
You might also like...
I went through this about 10 years ago. For me it was transformational and I actually look back on what may have been MLC with gratitude. If it wasn't for that lost feeling, of thinking that I should be achieving more, of following my passions - I wouldn't have got to where I am now. It needs a change in Mindset. For me it happened in an instant and within 3 months my entire life had changed for the better. It took a few years of MLC to get to that moment I'll admit. Now, I work for myself, have plenty of free time to pursue my goals, have painted and sold hundreds of paintings, have written and published a book on how others can make the same shift in Mindset, and have met my perfect partner. Change your Mindset to Change your Life. :)
Stuart Young
- 9-Nov-12 @ 3:18 PM