Advice On Coping with Depression in Midlife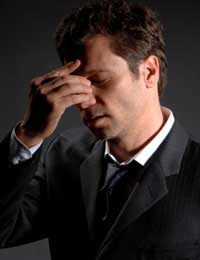 Many in midlife describe themselves as depressed, but not all are suffering from clinical depression. An occasional case of "the blues" is perfectly normal, but persistent feelings of sadness, hopelessness, or a loss of interest in pleasurable activities may require treatment.
Depression and the Menopause
Many women experience some level of depression as they make the transition from premenopausal to postmenopausal. Perimenopause, the years preceding the menopause, is a time when some women, even those who had never experienced any symptoms of depression, begin to display typical signs.
Mood swings, sadness, irritability, and sleep disturbances may be partially hormone related, while the changes that accompany the midlife stage may account for some of these feelings. Studies do show an increase in depression in midlife, in both men and women, which may suggest that the triggers are more complex than merely being the result of fluctuating oestrogen and progesterone levels.
Common Depression Triggers
Episodes of depression can seemingly come out of the blue, but often, there is a recognisable trigger that spurred the feelings. Health issues can be troublesome in midlife, and worries over the health of loved ones can have an impact, too. Poorly managed stress can easily become overwhelming, and in midlife, the stressors may be plentiful.
Careers are often demanding, but must compete with family obligations, leaving middle aged people exhausted, both physically and emotionally. Tending for the needs of both children and aging parents whilst trying to remain competitive in the workplace can leave little time for those in midlife to pay attention to their own needs, but this behaviour can come at quite a cost.
Lifestyle Choices and Depression
Regular exercise can work wonders to alleviate mild to moderate depression, so those in midlife need to be sure that they set aside time for physical activity. In addition to working out, getting sufficient sleep (but not oversleeping) can help to keep emotions on an even keel. For most adults, 7-9 hours of sleep is recommended.
Proper nutrition can not only help to insure overall health, but some foods are especially beneficial to emotional health. Diets rich in Omega 3 fatty acids, whole, unprocessed foods, and those high on folic acid may help ward off depression, while avoiding sweets, refined carbohydrates, and caffeine may be beneficial, as well.
Stress management techniques can help many in midlife to manage the symptoms of depression. Meditation and yoga are recommended for their calming benefits, helping participants to find moments of peace in their hectic lives. When the stresses of everyday life become too much to handle, even with self care strategies, it may be time to seek the help of a mental health professional.
Seeking Help for Depression
Sometimes, lifestyle changes alone are enough to provide relief for those in midlife who are suffering from depression, but when these changes fail to lift the depression, further help should be sought. A visit to the GP is a good place to start, to rule out other possible illnesses and for advice on managing depression. Medications can be helpful for some people, but antidepressants are not for everyone.
You might also like...