The Temptation of Unfaithfulness in Midlife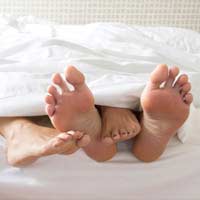 Midlife is a time of uncertainty for many people, who may be feeling that the years are going by far too quickly. The notion that old age is around the corner can be overwhelming for some, who strive to do all that they can to retain their youth. Unfortunately, some give in to the temptation of unfaithfulness, in order to boost their waning self-esteem.
Self-Doubt in Midlife
In their twenties and thirties, most people re fairly confident about their sexual appeal, but as middle age dawns, some worry that they are not as attractive as they once were, prompting them to look to outside sources for reassurance. Even those who have enjoyed the admiration of attentive partners may feel unsure as their bodies age and their self confidence declines.
Those who have been in long term relationships may wonder what they've missed by having the same partner for many years, and is common in a midlife crisis, some choose to stray, looking for proof that they haven't lost their appeal.
Relationship Problems in Midlife
Middle age is often a very busy time of life, with many family, career, and social obligations taking up the majority of one's waking hours. Romantic relationships, especially long standing ones, may be pushed aside and taken for granted, which can put them at risk.
All relationships need time and attention to flourish, and midlife is an especially crucial time for partners to pay attention to one another. Children and aging parents may certainly require some consideration, but midlife couples need to reserve at least part of their time to nurture their relationship.
Mourning Lost Youth in Midlife
Some people go through midlife rather seamlessly, but others have a very difficult time with the notion that they re no longer young. Many feel the need to revisit their past, taking up hobbies that they'd left behind or giving new consideration to the dreams they once had for themselves.
A certain degree of this behaviour is healthy, but taken to an extreme, trying to regain lost youth can damage relationships and break up families. When the search for earlier days leads to unfaithfulness, long term relationships can be pushed aside.
Encouraging Faithfulness in Midlife
While there is no way to "cheat proof" relationships, there are steps that couples can take to protect and strengthen their bonds, minimising the chances that one or both of them will give in to the temptation to be unfaithful. Taking time to participate in fun activities together, without children, can help couples to stay connected to one another and see each other as more than merely parents and roommates.
Offering sincere compliments and treating one another with kindness and respect matter greatly – people are sometimes more considerate of acquaintances and even to strangers than they are of their partners. Finally, while it is certainly not the only component in happy relationships, sex matters to most people, so maintaining a satisfying sexual relationship is important for long term relationship success. If there are issues of sexual dysfunction with either partner, they should seek help as most difficulties have fairly simple solutions.
Everyone has seen the results of a stereotypical midlife crisis in action. Someone in midlife trades in their family car for a sportier model and then does the same with their spouse. While there is no doubt that middle age can bring on a certain level of uncertainty, unfaithfulness need not be the solution to enjoying the years from midlife and beyond.
You might also like...