Sensible Exercise Options for MidLife and Beyond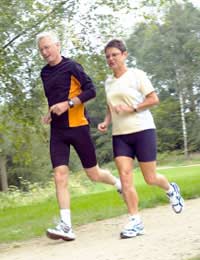 Staying healthy requires much the same things at any age – sound nutrition and regular exercise – and in midlife, many people find that it is more important than ever that they pay close attention to their diet and fitness habits. Formulating and then implementing sensible workout plans can help those in midlife and beyond to remain healthy and fit.
The Importance of Exercising in Midlife and Beyond
Ideally, parents would encourage a love of exercise in kids when they are very young and then those children would grow up maintaining a healthy level of activity and fitness. In reality, however, many people put their personal fitness on hold as their lives get busy with the demands of career and family, and before long, they find that they are out of condition and no longer enthusiastic about engaging in physical activity.
As middle age draws near, many people find that their bad habits from the past are beginning to take their toll, and an increase on obesity, heart disease, and diabetes are all seen in middle age. Fortunately, these problems can be prevented and in some cases, reversed, by making choices to consume a healthy diet and make time for regular workouts.
Walking for Exercise
One of the best exercises for overall health and fitness is walking. A consistent routine of brisk walking routine can reduce blood pressure, aid in weight loss, and even help to alleviate mild to moderate depression and anxiety. All that is needed to get started is an okay from the GP and a good pair of walking shoes.
Walking is ideal for both novice exercisers and well trained athletes because it can be done most anywhere and requires only 30-45 minutes a day to reap health and fitness benefits. Those who live in areas with inconsistent weather may wish to join a gym or fitness centre so that they have access to safe and comfortable walking conditions, no matter what Mother Nature may have up her sleeve.
Gyms and Fitness Centres
The perfect fitness routine would include several types of physical activity, including some type of cardio exercise along with strength or weight training. Gyms and fitness centres typically have a wide variety of exercise equipment and may even offer clients the ability to consult with personal trainers in order to customise workouts that best meet the individual needs and abilities of each person.
Many personal trainers are also qualified to give advice on diet and nutrition, making the cost of a few sessions well worth the investment. Whether looking to maintain aerobic fitness, increase stamina, improve strength, or simply develop abs that could outshine those of the movie stars, most fitness centres have the right stuff to help people achieve those goals.
The Value of Weight Training
Weight training is a vital tool in the battle to stay healthy and fit. Strength training builds muscle, which not only helps folks to look good in jeans and tight t-shirts, it also boosts metabolism, helping to keep weight under control and can even stave off osteoporosis.
It's not necessary to develop body builder muscles to reap these benefits; simply working with light weights on a regular basis can make a huge difference. All physical activity is good, but purposeful attention to workouts can help to keep people healthy throughout midlife and well into old age.
You might also like...