Maintaining Health & Fitness in Your 50s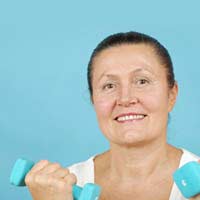 By fifty, many people have noticed that they are not quite as fit and healthy as they once were, prompting them to tweak their diets and exercise routines in order to maintain or improve their current health status. Fortunately, lifestyle choices have a great impact on fitness and overall wellness, so taking steps to act on the latest health information can keep those in their fifties feeling great.
Seeking Health Information in Your 50s
We live in an era of readily available medical information, but unfortunately, not all of the sources reporting health news are dedicated to checking their facts. Establishing trusting relationships with a few medical professionals is wise, as they can not only relay specific information, but assess how it applies to patients on an individual basis. Going to a website and typing in a list of symptoms can be a dangerous approach to health care; internet research is fine, but only when coupled with face-to-face visits to a GP.
Avoiding Common Illnesses in Your 50s
Hypertension (high blood pressure), heart disease, and diabetes often show up in the fifth decade, but each of these conditions can be postponed, prevented, or properly managed with a combination of good medical care and a dedication to healthy living. Choosing a diet rich in nutritious foods, especially fruits, vegetables, and whole grains, can greatly reduce the chances of developing these illnesses, and can also help to keep weight within the healthy range.
Maintaining Fitness in Your 50s
Training at a gym in order to be consistent in meeting exercise and fitness goals is a good idea. Walking is a terrific activity that promotes good health, but bad weather days can cause people who otherwise walk outdoors to miss workouts. Additionally, most fitness centres have a variety of equipment available to help clients achieve overall fitness.
A well rounded fitness routine is essential for maintaining cardiovascular health, increasing stamina, building muscle, and maintaining flexibility. Ideally, aerobic workouts alternate with weight training, resulting in strong, healthy bodies that are able to keep up with the demands of daily life.
Many health insurance policies are now including provisions for discounted memberships at gyms; insurance companies are finally realising that paying for preventative care is far less expensive than covering the costs involved with treatment of illnesses.
Managing Stress in Your 50s
For many people, stress is a major contributor to ill health in their 50s. Most are looking forward to retirement, but are not quite ready to take the plunge, so career demands may be at an all time high. Family responsibilities are often a factor, and although a rich social life is a blessing, the time restraints of modern life may mean that in order to juggle it all, people put off their own needs for rest and relaxation.
Research proves that taking time each day to unwind can reduce stress dramatically and can have a powerful effect on maintaining both physical and emotional well being. Meditation, massage, and taking time to pursue hobbies can all be beneficial in keeping stress at manageable levels.
Today's fifty year olds aren't typically trying to compete with twenty year olds in fitness contests, but just because they may not be overly concerned with having perfect abs, that doesn't mean they aren't interested in being healthy and fit. Fortunately, by being willing to take charge of their diets, exercise regimens, and health care, 50 can look and feel great!
You might also like...