Sharing Hobbies with Kids & Grandkids in Middle Age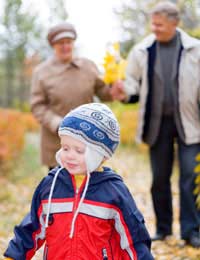 There is a saying that often holds true: "The family that plays together stays together." Taking time to pursue hobbies and other leisure activities with kids and grandkids can be a fun way to bond the generations.
Family Fun
Today's busy families often have very little time that isn't earmarked for one thing or another. Work, school, lessons, and sports can quickly eat up all of the waking hours, with family members often heading in different directions in order to meet all of their many obligations.
Although some of these commitments are necessary, it's also important for families to set aside some time to have fun together. By introducing their kids and grandchildren to their hobbies, middle aged parents can establish traditions that will keep the generations enjoying one another's company.
Many families try a number of activities before settling on a few that they all enjoy; it can be helpful for each member to take a turn suggesting the day's activities so that everyone's favourite hobbies get a chance. Adults who are open to trying the favoured activities of the children in their lives are sure to gain the admiration of the younger generations, so parents and grandparents would be wise to focus on fun when spending leisure hours with the family.
Revisiting Childhood
When choosing hobbies to share with the younger generations, middle aged parents and grandparents may want to think back on the activities that they enjoyed when they were kids. Sharing stories of their own childhoods can help the kids to open up and talk about their lives, too. This give and take is often the beginning of a communication that may span far beyond talk of favoured hobbies.
Kids today are exposed to a number of experiences that may be beyond their maturity levels; it's good for them to have established and comfortable communication with their parents and grandparents so that should the need arise, they will have someone to go to for advice.
Getting the Right Equipment
While some activities, such as hiking or collecting, don't require specialised equipment, other hobbies do. Choosing hobby-related gifts for kids and grandkids can help them to enhance the pleasure of participating, so kid sized golf clubs, gardening tools, or fishing gear may be the perfect choices when gift giving occasions roll around. Toy sellers and sporting goods stores often carry a nice variety of specialty equipment sized just right for children.
Bonding from Afar
Some middle aged grandparents are fortunate to have their grandchildren living nearby, but others are separated by considerable distance. Even those who don't get to enjoy in person visits as often as they'd like can still share some hobbies with their grandchildren. Playing games via email can be fun for both generations, and can help keep the generations feeling connected to one another even when they are far apart.
Having a family "book club" is another fun hobby that can be shared without being face-to-face. There is no substitute for the pleasure of hugging one's grandchildren close, but when it is impossible to be together, a little creativity can be the next best thing.
You might also like...