Sharing Hobbies as a Couple in Midlife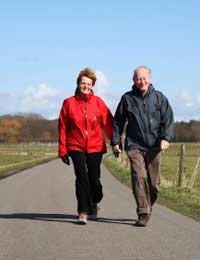 The demands of building careers and raising families can sometimes prohibit couples from spending much time engaging in hobbies or relaxing activities, especially together. In midlife, though, many people reassess their lives and priorities and decide that life is too short to miss out on having fun.
Adjusting Priorities
Work, family, and social commitments can quickly claim all of the waking hours in people's lives. Midlife is often an extraordinarily busy time for many people, especially those who find themselves caring for their children and aging parents whilst trying to maximise their earnings and promote themselves at work.
Those who are in committed relationships need to consciously set aside time to nurture their partnerships, too, because unless they are given time and attention, relationships can grow distant. Spending time together pursuing favourite hobbies is a great way for couples to stay bonded in a busy world.
Remembering Early Days
Often, when couples are first together, they spend a great deal of their free time playing and sharing leisure activities but as their lives progress, the demands of the outside world can have them leaving "couple time" in the past. Remembering and revisiting the activities that they shared early in their relationship can help couples to rekindle the feelings of their courtship, perhaps enhancing their emotional (and physical!) relationships as well as allowing them to see each other as more than roommates and parents.
For those who are especially short on time, it may be necessary to let go of other existing commitments in order to squeeze in time together, but the payoff of playing together is well worth the effort of rearranging schedules.
Introducing Hobbies to Your Partner
While couples may share a number of common interests, there are bound to be a few that they each enjoy without the other. Introducing a partner to a favoured hobby can make the activity even more enjoyable and if the couple has children, it may turn it into a family activity, as well.
It has been observed that couples who have been together for a long time often start to resemble one another – even their mannerisms grow similar. The reason for this phenomenon may be that successful couples often live the same lifestyles, eating and exercising in tandem. When partners introduce each other to their favourite hobbies and engage in leisure activities together, they are likely to not only strengthen their emotional bonds, but to actually become more like one another.
Healthy and Happy
A happy, healthy life requires time for both fun and exercise. Choosing hobbies and shared activities that have a physical benefit can help couples to stay fit through midlife and beyond. Golf, tennis, and swimming are all good choices for midlife couples, and when partners enjoy travelling, fitness holidays may be favoured.
Hiking, biking, and skiing holidays can be fun for couples as well as for entire families, and by choosing to maintain healthy activity levels while away, couples can rest assures that they don't set back months of dedicated healthy routines by overindulging and lounging for a few weeks at a stretch on holiday!
You might also like...