Parenting Small Children in Middle Age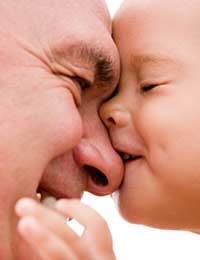 A few generations ago, most people chose to have children while they were in their twenties or early thirties, but today, many people start families in middle age. While women's fertility decreases with age, many women are able to conceive in midlife, either naturally or with the help of fertility treatments, so dropping off children at the nursery is no longer reserved for those under thirty!
Keeping Up With the Kids
Small children are often boisterous and quite energetic, so parents need to be energetic themselves in order to keep up. Today's middle aged parents are often health conscious and fitness focused, allowing them to play actively with their young kids. Eating well and making time for regular exercise can help midlife parents to feel their best, and living healthy lifestyles also provides great examples for impressionable children who are forming habits that they will hopefully keep throughout their lives.
Finding Other Midlife Parents for Socialisation
Children have always provided their parents with ample opportunities to meet other parents; kids tend to participate in a variety of activities and their parents often get to know one another while the kids are busy with their sports, lessons, or playgroups. While there has been a dramatic increase in the number of people who postpone parenthood until middle age, the vast majority of those parenting small children are younger than 35, so those who hope to find other parents in their age group may have to broaden their scope a bit when considering potential friends.
While having friends who are similar in age may matter a great deal in childhood, adults are more likely to form bonds based on similar interests and lifestyle choices, rather than age, so midlife parents of small children may find that they get on better with young parents than they do with their peers who are either childless or have much older children.
It's a Marathon, Not a Sprint
One of the greatest concerns of those who postpone parenthood until midlife is their ability to maintain robust health until their children are grown. Both medical professionals and the general public are far more aware of how lifestyle choices impact both short and long term health than they were just a few decades ago, so middle aged parents of small children have a wealth of information available to help them stay fit and healthy.
Diets filled with vegetables, fruits, whole grains, lean proteins, and legumes can help to keep the body operating at its best, and engaging in regular, rigorous exercise can add quality years to life. Preventative medicine is important, too, so that if health problems do crop up, they can be treated early when they are most manageable.
Older and Wiser
There are a number of benefits to postponing parenthood until midlife. Most people are more financially stable in their forties than they were in their twenties, making it easier for them to handle the expenses associated with raising children. Additionally, the need to compete and "prove something" to the world may be commonplace in young adulthood, but by midlife, many people find that they are comfortable and accepting of themselves and less inclined to make decisions based on what they believe other people may think, making them able to parent as they wish without allowing the expectations of others influence them. Finally, many people find that they are calmer and more patient after forty, traits that can surely come in handy when raising kids!
You might also like...