Becoming a Grandparent in Middle Age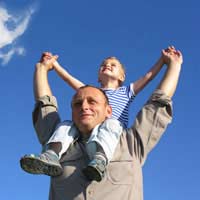 Grandparents are frail and wise people who like nothing more than baking cookies and bouncing grandchildren on their knees, right? While that may be the old stereotype, today's grandparents are often nothing like the picture that comes to mind when we envision our own grandparents. The new face of grandparenting is vibrant and engaged, and often quite young!
Welcome to Grandparenting!
It is not uncommon for first grandchildren to arrive while people are in their forties. Those who had their own children young should not be surprised when they find that they are going to become grandparents early, yet the news can sometimes be a bit unsettling. Some react with unabashed glee at the news, while others aren't quite so sure that they are ready to be anyone's grandparent. Most people, even those who are most reluctant initially, find themselves delighted to be grandparents once that precious bundle arrives!
Helping Cope With an Unplanned Pregnancy
Parents of teens may worry about their kids' futures, and few things rank higher on their concerns than unplanned, teenage pregnancies. Nonetheless, many people become parents before they may have expected, and if their children are not yet living independently, middle aged parents may find that they will soon have three generations living in their homes. Such circumstances will surely come with increased stress levels for all involved, but midlife parents can help by assuring their children of their unconditional love and continued support.
It's important that parents define what types of assistance they are prepared to offer, though, so that their teens are clear about what to expect. Some midlife parents are willing to provide both financial and practical help with their grandchildren, while others are less inclined to step in and offer assistance. There are no right and wrong ways to proceed, but young parents do need to be made aware of what to expect once the baby arrives.
Joyful Grandparenting
Grandparents are often bursting with love for their grandkids and are eager to spend time with them (and spoil them rotten!). Raising children is a wonderful experience, but parents are also under quite a lot of stress. Nutrition, behaviour, academic success, and spiritual guidance must all be considered by parents, but for Grandma and Grandpa, fun is what's on the agenda.
Many of us have fond memories of our grandparents, who were probably more likely than Mum and Dad to indulge our whims. The relationship between grandparents and their grandchildren is often described as delightful by both generations, so middle aged people who find themselves about to become grandparents just may be embarking on one of the happiest journeys of their lives.
Respecting Parents' Authority
By the time that they've reached middle age, most people are accustomed to having a certain level of authority in their families. The arrival of grandchildren changes that though, and new grandparents would be wise to remind themselves that they are not in charge when it comes to their grandchildren.
Parents have every right to raise their children as they see fit, even if some (or all!) of their choices are in disagreement with what their own parents feel is best and their parenting styles are different than the generation before. Unless the grandchildren are being put at risk because of the choices that their parents make, grandparents must learn to step back and allow their grown children to raise their children without the interference of grandparents. Offering help is one thing; crossing the line into bossiness is something else entirely.
Bragging Rights!
Unless you are truly interested in seeing dozens of photographs of smiling kids, never ask a grandparent if they've got any pictures of their grandchildren. Every grandparent alive is sure to believe that their grandkids are the most beautiful and brilliant ever born, and they'll have the cute stories and photos to back them up. That being said, friends of prospective grandparents may notice that the priorities of their buddies have changed a bit.
Once happy to talk about work and plan fun weekend getaways, middle aged folks who are about to become grandparents may now prefer to spend all of their time shopping for adorable little outfits and organising their homes to accommodate an influx of countless photo albums!
You might also like...