Caring for Ageing Parents in Midlife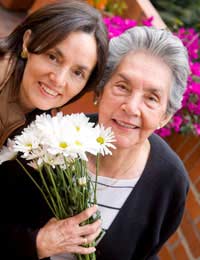 The middle age years are often filled with many responsibilities, not the least of which may be providing care and assistance to ageing parents. As parents get older, they may be less capable than they once were to manage the everyday tasks associated with managing their households, finances, health, and even personal care.
Frequently, they look to their grown children for help, but those children may already be feeling overburdened with existing obligations.
Assessing the Situation
Most of us count on family members during times of illness or other difficulty, but for many, there comes a time when some type of permanent assistance may be required. Depending on a number of factors, including overall health, many older people seek the help of their children, yet they are often hesitant to accept the help once it is offered.
It can be quite disheartening for older people to realise that their independence may be in jeopardy, so it is often up to their grown children to provide the help that they need whilst doing all that they can to avoid the appearance of exerting control.
Middle aged people who are concerned for their parents can get an overall picture of the help that is needed by assessing the condition of their parent's homes, talking to them about their daily struggles, and understanding any medical conditions that the older generation may be experiencing. From there, they can begin to formulate a plan of action to help their parents manage.
Organising Helpers
Depending on the level of care that their parents require, many midlifers may need to employ the help of other family members, as well as considering the possibility of hiring professional caregivers for at least some respite care. For those who live near their parents, providing hands-on care may be possible, but not all families live in close proximity to one another.
Those who live far away can still help, of course, but are bound to have limitations on the type of care that they can provide. Keeping in touch through regular phone conversations can help parents to feel less lonely and can help their grown children to recognise signs of trouble early on, making them more able to intervene if the need should arise.
Finding Balance
Many people in midlife feel overwhelmed by trying to meet their parents' needs while caring for their own growing families. This "sandwich generation" is often burdened with multiple responsibilities and may struggle with the feeling that they won't be able to continue without letting some of their loved ones down. On top of their family responsibilities, most middle aged people are also juggling career and social obligations, resulting in schedules that are all but impossible to maintain.
Accepting that there are limits to how much help they are able to provide for to their family members can help grown children to alleviate some of the guilt they may have for not being able to give their parents all of their time and attention. While it is important for grown children to help their parents when they can, they need to avoid paying so much attention to the needs of others that they fail to take care of themselves.
Finding balance is essential, with each family making the choices that work for them, allowing all members to care for one another while taking time to see to their other obligations, too.
You might also like...