Feeling Attractive in Midlife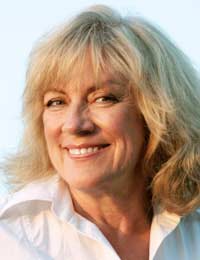 At twenty, it's pretty easy to feel attractive, but as the years move on, many people find that they've put on a bit of weight, added a few wrinkles, and may have some (or a lot!) of grey hair. These things don't happen overnight, but somehow in the years after a 40th birthday, such changes may begin to take their toll on a person's confidence and self esteem.
Everyone likes to feel that they look good, though, so learning to make the most of your looks and accept that ageing is a normal process can go a long way toward enjoying your midlife years.
Happy Looks Good!
Most of us would agree that happy people who seem to have a zest for living are a pleasure to be around. One of the best ways to feel attractive in midlife (or at any stage of life!) is to focus on the good things, and try not to dwell on any perceived shortcomings. Many people look up to celebrities and consider them to be highly attractive, but if you take a realistic look at photos of actors and musicians, you'll notice that they are not blessed with perfect features.
Just like the rest of us, many have frizzy hair, crooked teeth, wrinkles, and could stand to lose (or gain) a bit of weight. What they have that makes them so admirable to us mere mortals are confidence and the tendency to play up strong points, drawing the focus to their best features.
That, and the fact that many of their public pictures have been edited to soften their wrinkles, whiten their teeth, and shave a few pounds off of their midsections! So relax, have fun, and try not to compare yourself to anyone else.
Healthy Looks Good, Too!
In addition to a positive outlook, another way to feel your most attractive is to take good care of yourself. Nutritious foods not only help to provide the body with energy, they also help to keep skin bright, hair shiny, and weight under control. Exercise, too, helps keep bodies in top form, and when we feel good, we tend to look good, so keeping active is a key component to feeling attractive.
When we are young, we may be able to get away with a bit of junk food and poor exercise habits, but as we age, our metabolisms need the benefits of regular physical activity and nutrient dense foods. Also, staying in shape makes us vibrant and energetic, and what could be more attractive than that?
Maximise Your Assets
Teenagers have a tendency toward obsession when it comes to their looks. They often focus on one feature that they view as imperfect, worrying excessively about how their crooked nose, short legs, small bosom, or abundance of freckles may diminish their overall beauty. With age comes wisdom, though, and by midlife, most of us have come to not only accept our faces and bodies, but we are likely to celebrate those things which make us unique.
By forty, we've learned that there is far more to us than what we see in the mirror, and we understand that beauty comes in many shapes and sizes. No longer looking to fit into some cookie-cutter image of perfection, the men and women of midlife know that what is important is to be their individual best - not poor imitations of other people.
So if you've got great hair, show it off! A sun-kissed, freckled glow? Play it up. A slim, fit body? Choose clothes that flatter and emphasise how great middle age can look!
A Good Trade-Off
There is no question that the face we see looking back at us in the mirror in midlife is different than it was decades before. Hair greys, wrinkles appear, and a certain amount of sagging is inevitable. If it makes us feel better, we can colour our hair and even visit a plastic surgeon to take a few years off of the look, but the bottom line is that we are different than we used to be - more mature. But not just our look has matured.
Midlife is a time of great change, to be sure, but age provides some benefits simply not available to youth. We are less likely to concern ourselves with petty worries, reserving our angst for the truly big stuff, and by forty, most of us know ourselves far better than we did in our twenties, making us more capable of choosing the things that make us happy. There is a calm and confidence that comes with age, too, and these gifts far outweigh the price of a few laugh lines and a little greying at the temples.
You might also like...