Middle Age: The Importance of Having a Will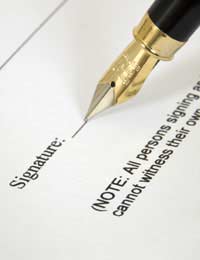 In middle age, the importance of having a will in place cannot be underestimated; it is the only way to assure that assets will be dispersed properly in the event of a death. Legal documents such as wills can be drawn up by lawyers specialising in estate law, or can be done using one of the readily available do-it-yourself (DIY) kits.
Legal Preparations: Wills
Few people expect to die in midlife, but the fact is that some of us are not fortunate enough to live in to old age. While it may be an unpleasant task, writing a will is a necessary and responsible thing to do in order to see that assets are allocated in a manner that is in compliance with one's wishes. Sometimes, death comes quickly and unexpectedly, and if a will is not in place, the law will determine how to best divide their estate.
Even when death is anticipated, the knowledge that time is limited can make it difficult to think clearly and focus on the legal details. It's a good practice for all adults to prepare wills – once the task is completed, it can be set aside and left to rest… unless, of course, life changes necessitate updating it.
Life Changes and Wills
Sometimes, wills are written and then circumstances change, making the document outdated. If someone has a change of heart and wishes to add or remove a beneficiary, the will must reflect those sentiments so that their estate will be divided according to their most current wishes.
It's important to keep in mind that if preferences aren't clearly stated in the will, there is no guarantee that they will be honoured. There are three major life changes that require people to amend or rewrite their wills, al of which can happen in middle age.
Marriage or Divorce: A change in marital status need to be reflected in a current and legally recognised will. A new marriage automatically nullifies an existing will, so newly married people need to have new documents drawn up that reflect their current marital status and name beneficiaries. In the event of a legal separation or divorce, it's equally important that the will be amended. The idea that a soon-to-be ex could inherit one's personal assets is not likely to sit well with most people. Finally, it's important to know that the law does not recognise common law spouses, so unmarried couples who wish to leave part or all of their estate to their partner must specifically name them in their wills.
Buying Property: The purchase of a home necessitates an update to a will. Even, as is common, if the mortgaged amount is most of the value of the property, some equity is likely to remain. Also, if the property was purchased with a partner, a will should specify what is to be done with the writer's portion of the property value.
Becoming a Parent: For many people, the main reason that they want to have a will is to see that their children receive their proper inheritances. Some people in middle age have both grown children and younger ones. If an estate owner wishes to divide their assets in unequal portions amongst their children (for example, to allow additional funds to be allocated to help raise younger kids), it must be stated in the will. Also, the law automatically recognises natural and legally adopted children, but if there are others that the will's writer wishes to include (step-children, for instance), they must be mentioned in the text of the document.
Details to be Included in a Will
A basic will is certain to cover major assets, but some people have strong feelings about the distribution of their personal possessions, as well. In cases where all of an estate is left to just one person, no conflict should arise, but oftentimes, funds and property are divided amongst several people. Items of sentimental value may cause discord amongst survivors if any particular item(s) are wanted by more than one person.
These types of disagreements can be avoided by specifying the recipients of family heirlooms and others personal items in advance. Charitable donations should also be designated wills, if an estate owner wishes to leave a bequest to a favoured cause.
Dying without a Will
People who do not make wills do so for a variety of reasons. Some find it difficult to consider their demise, so they put off preparing wills. Others may simply feel that since they are not especially wealthy, there is no need for a will, but that is a misconception. Wills are not only for the well-to-do; they are of value to every adult who has an estate of any value or people that they need to look out for. In other words, they are important for all of us.
You might also like...