Life Insurance in Middle Age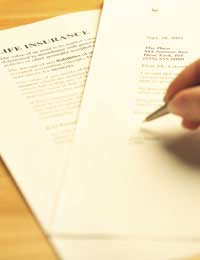 Life insurance is a wise purchase for most adults, but many in middle age wonder just how much coverage they need. Choosing the right policy can take a little research, but getting quotes and comparing benefits is well worth the effort.
Term or Whole Life Insurance?
In general, there are two basic types of life insurance (or life assurance) policies. The first is term life insurance, which, as the name implies, is purchased to cover a set span of time, after which, the policy ends. For instance, a ten year term policy is good for a period of ten years. This type of coverage often works well for those in middle age who have the need for substantial coverage in the short term, but expect to need less insurance after a set span of time.
Parents often purchase term life policies because they may need a great deal of coverage while their children are growing in order to assure there will be sufficient funds to cover living expenses, should they be left with only one parent (or none), but know that they will have need to less insurance once the children are gown and on their own. Term life insurance is typically the most affordable and is the policy of choice for many.
Whole life insurance is really more than just life insurance. These policies combine traditional life insurance with long term savings plans, so the costs are higher than for term policies. Typically, whole life costs are calculated by adding together the cost of term coverage plus a set amount for savings, plus management fees. The theory behind purchasing such policies is that the savings portion of the premiums will be in place to cover the cost of the insurance portion once policyholders are older and life insurance becomes more costly.
When offering quotes for such policies, insurance agents tend to stress to young clients that whole life policies build a cash value that can be withdrawn or borrowed against, should the need ever arise. What they may fail to add is that pulling money from whole life policies can be a complicated and costly financial move.
On the surface, it appears that the only sensible life insurance policies are term ones, but that's not entirely true. When shopping for term life insurance, consumers find that the cost is directly related to risk, so while young, healthy people can buy term insurance for reasonable premiums, coverage for older people or those in poor health can be quite expensive, sometimes prohibitively so. Whole life policies remain in place, even if the policyholder becomes ill or suffers a disability.
Assessing Finances when Buying Life Insurance
When shopping for life insurance, people need to make an assessment of their current financial situation, and must also try to profile the financial needs of their survivors. Living expenses, including funds to cover existing mortgage and loan payments are a good place to start, but there is more to consider.
Those with children must take into account the costs of raising the kids to adulthood, the loss of income from the deceased parent, and any additional expenses that the surviving parent may have to cover to hire someone to take on some of the tasks that the deceased parent may have handled.
Another point to consider (for parents as well as for those without children) is that the surviving partner may go for some time, unable to function in their usual capacity because of grief. Additional funds may be needed to cover their salary and other costs, should they find themselves in need of time off from work.
Each individual is certain to have their own unique needs as far as insurance coverage, but it is important to be sure that policies are well considered so as to provide sufficient funds. Life insurance isn't purchased for the benefit of policyholders; its value is for the survivors, so that their lives can be upturned as little as possible after losing a loved one.
You might also like...