Protecting Your Assets in a New Marriage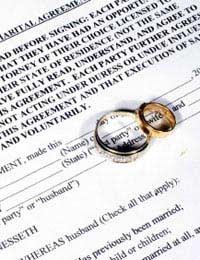 When couples choose to marry in midlife, it is likely that one or both of the partners have individual assets that they'd hope to maintain, both during the course of the union and in the event of a divorce, afterward, but may wonder about how to go about protecting their personal assets. Proper planning can help couples to avoid worrying about losing all that they have worked for and direct their focus on their happy future.
Prenuptial Agreements
It may not be the most romantic of topics, but prenuptial agreements may well be the single best way for people to protect their individual assets when embarking on a new marriage in middle age. When young couples marry, they typically bring no real funds or property into the marriage, but by midlife, many people have accumulated a degree of assets.
While marriage may be all about sharing, divorce is quite the contrary. Setting up prenuptial agreements before walking down the aisle can provide assurance to both partners that they will maintain their previous level of financial independence, should the marriage fail.
Protecting Your Children's Inheritance
Most parents hope to leave some assets to their children after they die. When deciding to marry in midlife, parents may wish consider ways to protect their children's inheritance. Drawing up a will can spell out one's wishes, seeing that assets are divided in accordance with their instructions. Without having a valid will in place that specifically names the children, personal assets may be considered marital property and be awarded to the new souse.
When purchasing life insurance policies, parents can choose to designate their children as beneficiaries, if they wish, in order to make sure that the proceeds go to the next generation. Many people purchase life insurance for just this purpose.
Maintaining Separate and Joint Bank Accounts
Modern couples often choose to have several bank accounts; one joint account as well as individual accounts that are maintained by each partner. Household expenses are typically shared, but depending on the income level of the spouses, one may be expected to make more substantial financial contributions than the other. By separating the bulk of their funds, each partner is able to protect their own assets whilst making a contribution to the shared household expenses.
Seeking Legal Counsel
While some aspects of financial planning are fairly simple and straightforward, the legalities of asset protection may be best handled by qualified lawyers. Firms specialising in family law can help couples to draw up prenuptial agreements, wills, and when appropriate, trusts.
Marriages are more than romantic partnerships; they are legal partnerships, too. Sound legal advice can help both parties to spell out what they feel are fair and reasonable expectations regarding the financial aspects of their marriage.
The Importance of Full Financial Disclosure
Entering into a marriage always requires a leap of faith, but modern marriages have only a fifty-fifty chance of survival, so it's smart to protect oneself from financial ruin, should a midlife marriage fail. By choosing to protect assets in advance of the marriage and being open with each other regarding finances, couples can eliminate one major source of disagreement common in marriages – money.
Couples should sit down to discuss all financial aspects of their union, including preexisting assets and liabilities, income and earnings, the value of all assets, including property, and finally, their ideas about spending, saving, and distributing funds.
You might also like...