Midlife Skin Care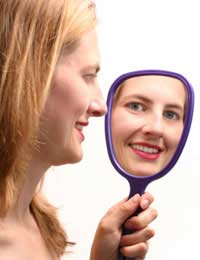 For many people, changes in their skin are of the first noticeable signs of aging. Some develop fine lines while others may just notice that their skin seems drier than it was in years past, but almost everyone experiences some significant changes to their skin once they've hit their forties. With proper care, though, skin can remain radiant and healthy during midlife and well beyond.
Anti-Aging Creams and Lotions
As anyone who ever turns on a television or picks up a glossy magazine will attest, anti-aging skin care products are hot consumer items these days. No one likes to look older than they have to (well, except for teenagers, who can't wait to appear older!), so searching for a magic potion that can roll back the years is an understandable midlife quest.
A great number of the supposed 'anti-aging' products on the market are nothing more than regular moisturisers with fancy names, fancy packaging, and even fancier pricing, but there are some ingredients that have been proven to have a positive effect on skin quality. Reducing the appearance of fine lines, improving the skin's firmness, minimising age-related discoloration, and plumping up sagging skin are all possible, but consumers need to exercise caution when choosing products because manufacturers aren't always completely upfront about the genuine capabilities of the products that they sell.
Dermatologist Treatment for Aging Skin
Many of us associate dermatology with the needs of teenagers who are battling acne, but dermatologists perform a wide variety of services for people of all ages. In addition to helping teens with their skin issues, dermatologists also offer those in midlife a variety of treatment options designed to reduce wrinkles and help them to slow the hands of time. A consultation with a qualified skin specialist can be a first good step toward achieving glowing, healthy skin—with sound medical advice, consumers can gain knowledge of which treatment plans are best for their unique situation and possibly save themselves a considerable amount of money in the process by avoiding the purchase of ineffective creams and lotions.
Cosmetics for Midlife
Make-up that looks great on a twenty-five year old may not work well for those a generation older. As we age, changes to our skin and hair require that we rethink our beauty regimens, selecting products and colour palettes that complement our maturing faces.
When it comes to cosmetic application in midlife and beyond, "less is more" is often a good plan. Heavy make-up not only looks unnatural, but tends to collect in fine lines and creases, making them more prominent. By choosing lightweight foundations and minimising the use of powder, middle aged women can even out their skin tone without drawing attention to the very things that they are likely trying to conceal.
When it comes to colour selections, dark colours are often best replaced by softer, rosier shades for those past forty. The palette will vary from woman to woman, of course, depending on a number of factors including natural skin tone and whether or not she chooses to colour her hair. Trying out cosmetics in new colours can help women to find the ones that are most flattering for them.
Skin Cancer Screenings
Proper skin care goes far beyond the face and neck—whole body skin care is essential for overall health. The GP or dermatologist should perform a thorough examination, looking for suspicious moles or growths that may be indicative of skin cancer. Years of sun exposure, especially for those who haven't always been diligent about the use of sunscreen, can take its toll on skin, causing a wide variety of damage than ranges from simple discoloration to potentially deadly forms of cancer. An annual exam can catch problems in their earliest and most treatable stages, making them far more manageable.
You might also like...